eSight has enabled many people around the world to achieve 20/20 visual acuity. Over the years, we have witnessed users being able to see the faces of their loved ones for the first time, get their confidence back, excel again at work and school, and do the things they love.
There are many more individuals living with low vision or legal blindness that eSight could help see new possibilities. That's why we started the eMPOWER program, an online fundraising platform that helps people achieve their goals of obtaining an eSight device.
The eMPOWER program is open to anyone who requires additional assistance in purchasing an eSight for themselves, their loved one or a fellow member of the low vision community. Fees associated with other fundraising platforms can be quite costly. At eSight, we proudly cover all costs, so 100% of the funds raised go towards purchasing an eSight device.

All eMPOWER users are provided with:
Access to our exclusive online peer-to-peer platform, with all fees covered by eSight
Assistance in setting up your personal fundraising page
Templates, documents, and other resources to help you share your story and maximize your fundraising success
Current eMPOWER Fundraisers
Since the launch of the program, we have raised enough money to purchase over 800 eSight devices. That's almost $5 million, and we don't plan on slowing down anytime soon.
"The eMPOWER program has helped me with my community outreach and has opened up many doors for me to reach my fundraising goal. When I first tried eSight I was able to see my son play baseball for the first time. When I reach my goal, I'm going to read more to my kids, take online classes and hopefully get a job."

Steven Harlow, Current eMPOWER Fundraiser
Below you will find a few of our current fundraisers who are working hard to reach their goal.
Bryanna Clifton has limited vision in both her eyes. With eSight, she can move around more freely and easily and hopes it can support her in completing her master's in Psychology, become more independent and open up a senior living community.
Amber Faulkner's struggles with her vision began after she contracted the flu back in 2015. When she tried eSight she was able to see her daughter's eyes again after five years. With eSight, she hopes to start a new business, feel more connected to her loved ones and get back to doing the things she loves.
Steven Harlow lost 30% of his eyesight over two years. Having tried eSight and seeing all the new possibilities, he hopes to raise the funds for his eSight so he can do the things he once loved and even more.
Steve Gnup was born with congenital hydrocephalus. He's looking to upgrade to an eSight 4 so he can continue doing all the things he loves and experience all the new and improved features of the eSight 4. Some of those features include even greater visual acuity, a wireless controller, built-in controls and android and iOS apps for your smartphone.
Nick Flores is passionate about radio and hopes to one day become a DJ. Nick was born with cerebral palsy which caused damage to his optic nerves, with eSight he can do and enjoy all the things sighted people take for granted, but most importantly he's looking forward to getting married and starting a family in the future.
eMPOWER Stories
Stephon Roach, a 12-year-old living with optic nerve hypoplasia, is a great example of how the eMPOWER program has helped eSight users. Stephon received his eSight two years ago by using the eMPOWER program to facilitate his community outreach. With his eSight, Stephon was able to learn how to ride a bike and feel safer when getting around or playing outside with his peers.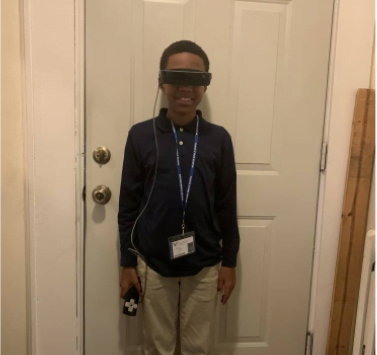 Another great example is Dr. Mary Sedgewick. Dr. Sedgewick lives with bilateral optic neuritis and has raised $14,000 to help purchase eSights for those who need it. She is determined to provide the gift of sight to as many people as possible, and she is already half-way to her goal of raising $30,000.
How to get started with eMPOWER or support current fundraisers
If you'd like to join the hundreds of people who have used eMPOWER, please feel free to contact us at [email protected].
There are over 400 million people in the world living with visual impairments. With eSight's revolutionary technology and the eMPOWER program, we can help many individuals living with low vision and legal blindness achieve 20/20 visual acuity. If you are in a position to give we encourage you to donate to one of our active fundraisers.