When it comes to the low vision community, there is a lot that sighted individuals don't know or understand. As a result, students with low vision or blindness are often told that a post-secondary education is beyond their reach. This, however, is not true. Thanks to the many assistive technology and accessibility services available, people who have visual impairments, can successfully receive a post-secondary education. eSight is one of those technologies that has helped many individuals accomplish their goals. These are their stories.
eSight Scholarship Program
In 2020, eSight teamed up with the CNIB Foundation to gift six college students an eSight. The program was created in an effort to encourage and support students with low vision in achieving their academic goals. The scholarship winners are as follows:
Emma is an 18 year-old student from London, Ontario who has a degenerative eye disorder called Kjers optic atrophy. She is studying nursing at the University of Western Ontario. Before using eSight, she used an electronic magnifier that enlarged print through a Bluetooth camera and tablet. However, the device wasn't very portable. With her eSight, Emma can read her textbooks, get around campus and enjoy recreational activities with ease.
"It really has just helped with everything. From my daily activities to school work, it's made things so much easier"

Emma Van Dyk
Nicolas Garcia,
A 27-year-old student from Calgary, Alberta, Nicolas is earning his master's degree in mathematics at Queens University. Nicolas lives with optic nerve atrophy. Before using eSight, he would record his daily interactions and watch them later when he had the time to zoom-in. For Nicolas, the eSight has made it easier for him to read his textbooks as well as for fun. It has also made it possible for him to learn at the same pace as his peers.
Camilla Cambell-Davis
Camilla is a 28-year-old student from Calgary, Alberta. She is studying early childhood development at Bow Valley College. Before using eSight, she was using CCTV as well as relying on enlarged prints in text- both of which are rather inconvenient. With eSight, she can keep up with her lectures and read text easily. It also allows her to participate in more social activities and feel more involved with everything going on around her.
"It takes me a little longer to process things, but eSight has helped me be more involved in class, even with everything being online now"

Camilla Cambell-Davis
Sean Heaslip
A 40-year-old Ph.D. student from Vancouver, British Columbia, Sean is a Ph.D. candidate in Counselling Psychology at the University of British Columbia. He hopes to become a psychologist when he graduates, focusing on childhood trauma and sexual abuse. His eSight has made it easier for him to be more engaged in class, especially when looking at slide shows, giving presentations and attending workshops and conferences.
Gregory Carrier
Gregory is a 37-year-old student from Edmonton, Alberta. He is a Ph.D. candidate in Medieval History at the University of Toronto, concentrating on the lives of people who were deaf and blind. Gregory uses his eSight to assist him academically and to live independently.
eSight also awarded a separate monetary scholarship of $2,000 to Tori Diamond, a psychology student at South University from Columbia, South Carolina. Born with optic nerve atrophy, Tori used to use a magnifying glass, which was made doing certain tasks inconvenient. With eSight, she can comfortably take notes and view slideshows in class. She has also uses eSight to learn new hobbies, like cooking.
Beyond the classroom
Our post-secondary users don't just use their eSight in the classroom. They also use it to assist them in a variety of extra-curricular activities. From computer programming to COVID relief initiatives, these students are using their eSights to do very exciting things.
Rahma Ali, a McMaster University business student, has been using her eSight, since 2018. In addition to using it in the classroom, Rahma uses her eSight to support her work in coding.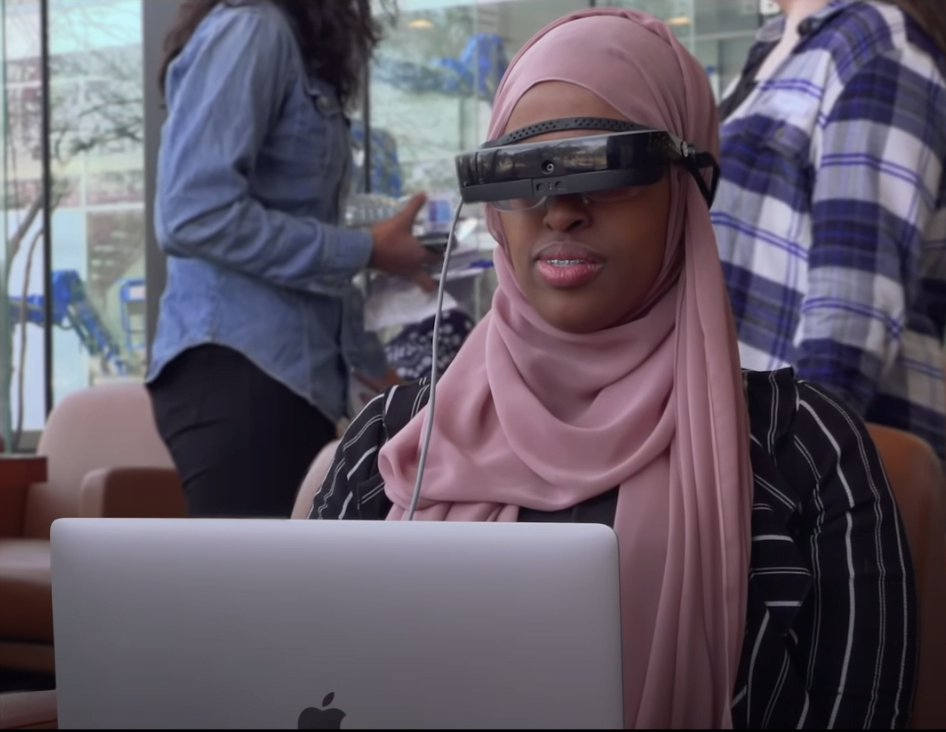 She even took her device to a 3-day hackathon she attended at Harvard. Like other low vision students, Rahma hopes that she can live in a world where technology is more inclusive and accessible.
Jesse Johnson is a long-time eSight user and a graduate of Bloomsburg University. He uses his eSight to support his work in creating prosthetic limbs for people in need using 3D printers. Most recently, as a response to COVID-19, Jesse created emergency masks and ventilators for his local hospital. Jesse shares that he's had to overcome numerous challenges because of his visual impairment. This is what motivates him to use his resources and skills to help others the way he's been helped.
Paying it forward
The stories shared are just a glimpse of the resilience and capability of the low vision community. With the help of assistive technology, such as eSight, individuals with vision impairments are achieving their post-secondary goals and are using their talents to pay it forward in remarkable ways that ultimately create a more accessible world.
Did you enjoy reading about how post-secondary students are using their eSight? Learn about some school tips for students with low vision.