Dr. David Lewerenz, OD, FAAO, from the University of Colorado School of Medicine, Department of Ophthalmology, joined our #eSightTogether webinar on May 14. As a specialist in low vision rehabilitation, he discussed how he is still assisting patients in the age of social distancing. He also shared the tools he and Dr. Iyer at the University of Texas created to test visual acuity during online health visits.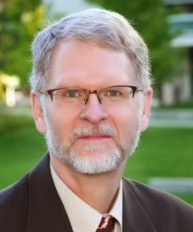 Watch the webinar on-demand or read the webinar summary notes below. You can, also download Dr. Lewerenz's slides and tools for testing vision acuity.
Tools for Remote Testing
Pros and Cons of Virtual Health Low Vision Visits
During this time of pandemic, doctors go through at least three stages of caring for their patients.
Virtual health only
Limited and very cautious face-to-face visits
Resumption of normal scheduling and regular practices
Advantages of Virtual Health in Low Vision Rehab
There can be some advantages for virtual health in low vision rehab. It is safer for the patient and provider during times of social distancing, especially since many patients and providers are at risk of COVID-19 complications. COVID-19 can develop in someone of any age, as Dr. David Lewerenz noticed 20 out of 24 COVID-19 patients on ventilators during his overnight shift at the ICU, and only about 6 of those were 70 or older. Furthermore, virtual health keeps the patient and provider in touch which means they are still able to work on their goals. As well, some visual metrics can be accomplished, such as a method for visual acuity which will be touched upon later.
Challenges of Virtual Health in Low Vision Rehabilitation
However, there are some undeniable challenges of virtual health in low vision rehabilitation, such as being unable to do a refraction for a patient. Moreover, doctors are unable to evaluate using most of their former devices and strategies. Communication with patients is also more limited because doctors would typically be communicating with them before they enter the exam room, and any non-verbal communication with a patient is very difficult to achieve online. Finally, collaborating with co-workers has become more difficult too.
Types of Virtual Health Visits
In terms of types of virtual health visits, there are a few to choose from:
Phone calls are an option although they lack the element of video, but they can still be useful for guiding patients on the use of devices and strategies for working on their goals.
Many are opting for informal audio-video platforms such as FaceTime, Google Duo, and Zoom, which would normally not qualify under HIPAA regulations but the regulation has not been enforced during this time of social-distancing.
There are more formal and secure platforms often linked through electronic medical records systems or patient portals, but they are also typically more complicated to use.
Do Not Pre-Judge a Patient's Technological Expertise
Dr. David Lewerenz initially thought that virtual health visits would be very uncommon in the low vision industry, due to the nature of the patient demographic, but it has proved to be very useful. He gave an example of how he realized he could not pre-judge any patients' technological savvy based on their age when he had an elderly patient who figured out how to use their eSight with remarkable ease.
Steps to Facilitate Virtual Health Visits
Confirm Tech Requirements: When facilitating virtual health visits, there should always be an introductory call by a provider or staff member to make sure the patient has the technology necessary for the visit and understands how to use it.
Set Expectations Prior to Call: The provider should explain to the patient what can and cannot be accomplished during this type of visit.
Recording and Setup: Finally, Dr. David Lewerenz strongly recommended that doctors have a plan for recording the findings. In virtual health, it is often too difficult to have a split screen between the EHR and the virtual health visit, so having a dual monitor would be a huge advantage for frequent patient visits.
When is a Virtual Visit Best?
The types of visits best suited to virtual health are generally follow-up visits. Brand new patients can be difficult in terms of initial evaluation, but doing pre-evaluations where the patient discusses their primary goals, history, and struggles, can be useful to save time for when a face-to-face visit is possible. As well, any time a patient is having a problem or facing a new challenge, Dr. David Lewerenz advised clinicians to encourage patients to reach out to them. There are many times when an issue can be resolved over the phone just as well as it could have been done in person.
Current and Future State of Low Vision Healthcare
As doctors are practicing a limited and very cautious return to face-to-face care, Dr. Lewerenz shared some of the precautions that his clinic is taking on both the side of the patient and the provider.
For the patients, the clinic:
Employs a pre-visit telephone screening
Enforces wearing a mask at all times
Removes waiting rooms
Limits accompaniment
Requires check-in and check-out to be done over phone in the parking lot.
For the provider:
They have a limited working schedule
Wear a mask and gloves on at all times
A room wipe-down following each appointment.
Future of Virtual Health
Dr. Lewerenz also addressed how he thinks the world will be different when COVID-19 is a thing of the past. He described a future where virtual health will likely continue at unprecedented levels, especially for those who live states away from their initial assessment location where an online follow-up is much better than no follow-up at all. Moreover, there will likely be an increased awareness of hygiene in medical visits and social situations, such as whether or not to shake hands.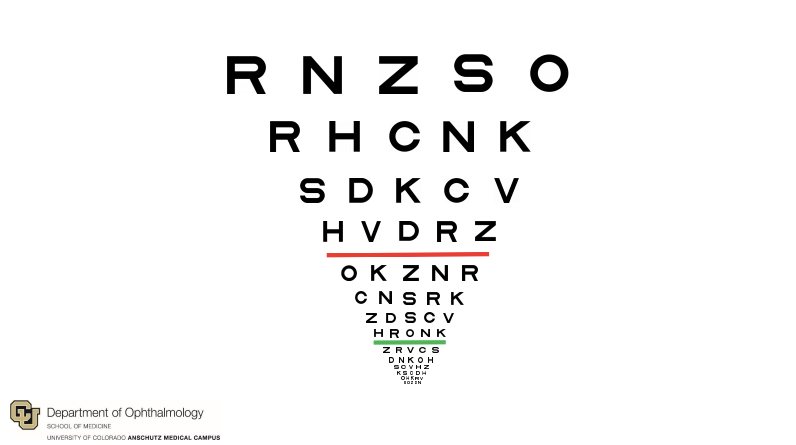 Measuring Visual Acuity Remotely
At this point, he transitioned into describing his method of measuring visual acuity in his virtual health visits. He explained the initial challenges of not every patient being able to print the chart, and the size of the screen having a hand in determining the size of the optotypes. He shared a novel method that takes the patient's screen size into account as well as the distance of the patient from the screen.
The virtual visual acuity method requires 3 main resources which have been linked below. There is the actual visual acuity chart, an Excel sheet to plug in the numbers, and a sheet of instructions for the clinician which goes into much more detail about the following steps.
1. The long arrow can be emailed to the patient but it may be easier to simply share screens.
2. The patient will measure the arrow and if they do not have a ruler, the instructions have examples of household items that can be used as approximate measuring devices.
3. The patient will estimate the distance from their eyes to the screen which can also be approximated.
4. The clinician will enter in these measured/approximated values in the Excel sheet to find the correct Snellen equivalent values for each line of the chart.
5. The clinician will be able to test visual acuity like normal.
Did you enjoy reading about Dr. David Lewerenz's insights on low vision rehabilitation during COVID-19? Be sure to watch for part two of his webinar which discusses the FAQ's from the webinar participants.