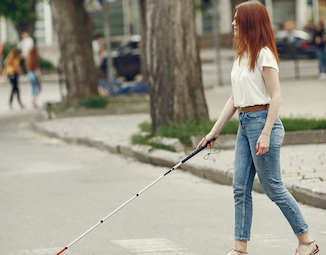 Regardless of age or the amount of functional vision, we are all at risk of falls. Fall prevention is important work and even more so if you or someone you live or work with is visually impaired. Vision loss is one of the main contributing factors to a heightened risk of falling. In fact, individuals with visual impairments are two times more likely to fall than those who do not have an eye condition.
That's why it's important to identify and understand possible obstacles that can cause individuals with low vision to fall as well as safety measures that can be implemented in your home and at work.
Obstacles faced by people with low vision
Individuals with low vision face obstacles in everyday environments that sighted individuals might not notice. This includes, but not limited to:
Floor rugs where feet can get caught underneath.
Bulky furniture that a person can hit as they walk by.
Inadequate lighting that can make it difficult to survey an environment with remaining functional vision.
Small objects like extension cords or toys that can become a tripping hazard.
While we all may have these types of objects in our home, by implementing safety precautions, the risk of falling for colleagues, friends and/or loved ones with low vision can decrease. 
How to lower a person's risk of falling?
There are a number of short-term and long-term solutions that can decrease the risk of falling.  For starters, home and workplace modifications can be implemented to create a safer environment. Here are a few:
Remove throw rugs or use double-sided tape to keep them from lifting.
Install additional handrails for added assistance and security.
Install hooks and/or shelves to ensure coats, bags, cords and personal items are not left on the ground.
For entryways and bathrooms, use non-slip mats or slip strips when needed.
Store toys in a designated bin or basket.
Ensure the wall and floors are not the same colour. This increases contrast, making it easier for people with low vision to differentiate between the two.
Improve lighting, making it easier to identify potential tripping hazards.
For individuals with low vision or legal blindness, annual eye exams with an optometrist or ophthalmologist are important. An eye doctor will be able to assess and provide detailed information on how to properly manage your eye condition. This can in turn help decrease the risk of falling.
Other steps an individual with visual impairment can take include:
Avoiding clothing that can catch onto furniture and objects
Wearing shoes with non-slip soles. This includes house slippers.
Encouraging colleagues and friends to reduce clutter and letting them know how helpful it is to keep shared areas safe
"There are many safety precautions that can be taken to decrease the risk of falling. For me, I find it helpful to use my white cane depending on the environment as well as my eSight device. I also wear dark lenses or a hat to help with sunlight and use handrails to go up and down steps when they are available."

Rosa Henderson, eSight Coach
Many individuals with visual impairment find white canes and guide dogs to be extremely helpful in navigating their environment. Additionally, assistive technology can also make it easier to identify possible hazards. This includes devices like eSight. This head-mounted device dramatically enhances vision for wearers while retaining 100% mobility. Used daily by thousands of individuals with visual acuity of 20/60 to 20/800 caused by 24 different serious eye conditions, many eSight wearers achieve 20/20 acuity.
Visit our information page to learn more about eSight 4, our newest innovation for enhanced vision.