By: The Alleghany News Staff
Nelda Roten
Nelda Roten of Laurel Springs has suffered with night blindness all her life, but at 12, she said she was diagnosed with retinitis pigmentosa, a genetic disorder where the eye cells that detect light break down. The same condition also damaged the vision of her father and her grandfather.
Despite waning vision, she married and raised three youngsters to adulthood. Fifteen years ago she turned in her driver's license because she could no longer see to operate a vehicle.
Larry Kupner
Larry Kupner of Glade Valley received the same diagnosis in 1976, but he admitted he was having problems seeing years before that.
In 1991, legally blind and having given up his driver's license, he gave up a career in construction and learned to build custom computer systems. Now he's too blind to do even that.
Sparta Lions Club
Thanks to the Sparta Lions Club and a miracle of technology, today Roten can see. Kupner is raising money to permit him to enjoy that same miracle of new sight.
I recently interviewed Nelda and Robert Roten, Larry and Melinda Kupner, Bob and Carolyn Sprinkle and Lions President John Pokorney at the Lions Pavilion in Sparta. Service to the visually impaired has long been a mission of Lions clubs.
Trying eSight
This story began almost three years ago. Local Lions Club members, Bob and Carolyn Sprinkle, were at a Lions convention in Greensboro.
They met with an eSight representative and with Dr. Mary Sedgewick who started going blind at age 19. For individuals who have just a small amount of vision remaining, the eSight eyewear appliance can amplify images so that the small visual ability that some blind individuals retain can be used to restore much of their lost vision.
Carolyn Sprinkle recalled that the eSight representative asked Sedgewick if she wanted to put on the eSight device on. "She put the glasses on and she looked down and could see Lucy (her service dog) and started crying. We all started crying," she said.
So impressed was Sedgewick, that she went to work for eSight, promoting their technology. The Sprinkles received training in how to introduce this new technology to others.
Introducing Nelda to eSight
Last March, the Lions Club held a meeting with a group of local residents who were visually impaired to demonstrate the eSight eyewear. The eyewear is a new technology with a learning curve that has to be mastered to use it effectively. And it's expensive.
When Roten put on the glasses provided at the demonstration, she saw her husband Robert clearly for the first time in years. "She said I looked old," he quipped, but added, "It's a blessing."
Robert said his wife saw raindrops hanging off the clothesline and burst into tears of joy. She saw her adult children clearly for the first time in years and for the first time clearly saw her grandchildren.
Though legally blind, he said his wife has managed with his help. She learned to crochet by touch. Nelda said she had to be careful where she laid down items or else they would be lost to her.
Introducing Larry to eSight
"I got my color back," said Kupner. "I could see Melinda (his wife) and Zach (his son)."
Melinda Kupner said Larry also uses his hands to complete tasks most people do by relying on their vision.
Kupner is a veteran and as a veteran would have been eligible for help in purchasing the appliance from the Veterans Administration's low vision program, but "they did away with the low-vision program when COVID hit," said Carolyn Sprinkle.
With the eSight devices and the necessary training costing somewhere over $7,000, both expected to have to wait months before they could raise the money to make the purchase.
The eSight Story
The eSight story began in the 1980s with Conrad Lewis and his love for his sisters that fueled his desire to help them see. According to esighteyewear.com, both sisters had Stargardt's disease, a condition similar to retinitis pigmentosa.
Conrad, an electrical engineer, spent nearly 30 years tinkering with gadgets and bits of access software he'd encountered at trade shows and through his professional connections, all with the intent of creating a product that could help the visually impaired.
The first prototype was released in 2013.
Brian McCollum, eSight CCO
Brian McCollum, eSight chief commercial officer, explained that for the device to work, individuals must have at least a small amount of remaining vision. He said the eyewear has cameras in front that receive images, process those visual images and then projects them into the wearer's eyes. "It's filling in the gaps (in their vision) and working with what vision they have," he said in a phone interview from Texas.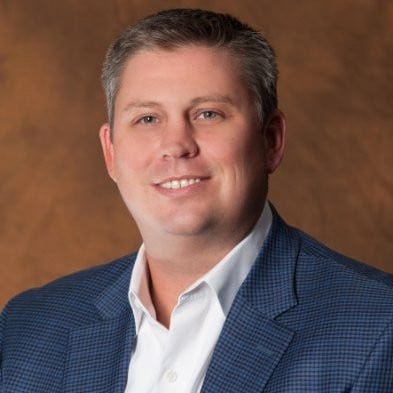 He said that training in the device is tailored to what the user wants to do – golf, paint, pursue hobbies or whatever.
McCollum asked questions about Sparta and when I pressed him, he revealed a coincidence in this story. He said he grew up in Yadkinville and attended Forbush High School.
His dad was Ricky McCollum, the school's basketball coach and later athletic director. He recalled trips to Sparta to play Alleghany High School in basketball.
Fundraising for eSight
Nelda's Story
The company has a fundraising website where it posts the stories of individuals who are raising money to purchase the eyewear and has a link to accept donations. Roten's story is at giving.esighteyewear.com/nelda-roten on the web.
Roten said she thought it was going to take a year to raise the needed funds, but family, friends and an anonymous donor responded in short order and in a little over a month she had her new eyewear.
Larry's Story
Kupner's story and the opportunity to contribute to the purchase of his eSight appliance is found at giving.esighteyewear.com/larry-kupner on the web.
The Lions Club is open to introducing this opportunity to others. If you are visually imparied and think you may benefit from eSight eyewear, go to spartalionsclub.org and select the Contact link.
Hope for the Future
Stories of veterans of the wars in Iraq and Afghanistan who've lost limbs, but had their mobility restored with ingenious and sophisticated artificial legs, have been commonplace in recent years.
Alleghany County Commissioner Bobby Irwin's hearing has been partially restored with a cochlear implant. Stories of babies born deaf having their hearing restored through this technology can be found on the web.
Now a local citizen has had her sight restored.
The lame walk, the deaf hear and the blind see. It is a time of miracles.