Introducing eSight 4
Since the launch of eSight 3, we've conducted extensive research on how to improve our all-in-one solution and better cater to our users' needs. The end result is eSight 4, a ground-breaking device that takes visual acuity, mobility, comfort, and ease of use to a new level.
We're also proudly introducing cloud-based connectivity for a whole new set of possibilities including connected entertainment, shared accounts as well as adaptive learning benefits coming soon. These changes have made it even easier for eSight users to see new possibilities!
eSight 4's Breakthrough Technology
Greater Visual Acuity
"Visual clarity is the most notable change. eSight 4 offers dramatically improved screen resolution, vibrant and crystal clear colors, and exceptional auto-focus capabilities. When you look at things, the view is projected clearly, immediately. Simply put, the overall experience beats everything else!" – Roger Deo, 39 years old, Former University Lecturer, Currently a Technology Startup Founder, Myopia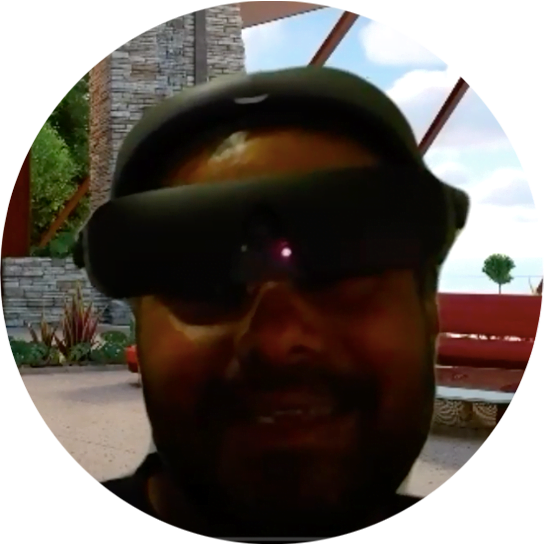 eSight 4 has more powerful software capabilities, including faster processing, notably improved auto-focus, and two times the maximum brightness to deliver an impressive improvement in visual acuity. Given its compact size, eSight packs more megapixels on the screen and delivers a sharper, clearer image.
More important than any individual component is how the camera fits together. Through extensive testing, eSight 4 brings best-match camera and lens technology, to project a superior image. It also introduces two 1280×960 crystal clear high-resolution screens – one for each eye. Like the eSight 3, eSight 4 can be personalized through adjustable pupillary distance, and a new feature allowing you to move the screens closer or further away from your eyes. eSight fits comfortably over most prescription glasses, so you can achieve the benefits of eSight with your prescription visual acuity as the baseline, and do so without the need for custom orders.
Superior Mobility
"Immediately I was struck with the style and mobility of eSight 4. It's truly a wireless device that could make activities outside of the home environment easier." – Allen Ische, 78 years old, age-related macular degeneration
With an all-new wireless, hands-free experience, you can simply put your eSight 4 on and step out the door. It has a built-in touchpad that offers full zoom, contrast, and colour control.
Want to stay out all day? No problem. Easily swap the magnetic battery in just a few seconds. eSight comes with two rechargeable batteries, each providing up to three hours of continuous use. Additional batteries are available for purchase.
All-Day Comfort
"eSight 4 is comfortable to wear, and the idea of golfing by myself is now a real possibility." – Christopher Chiodo, 37 years old, Product Manager at Walmart, Stargardt's disease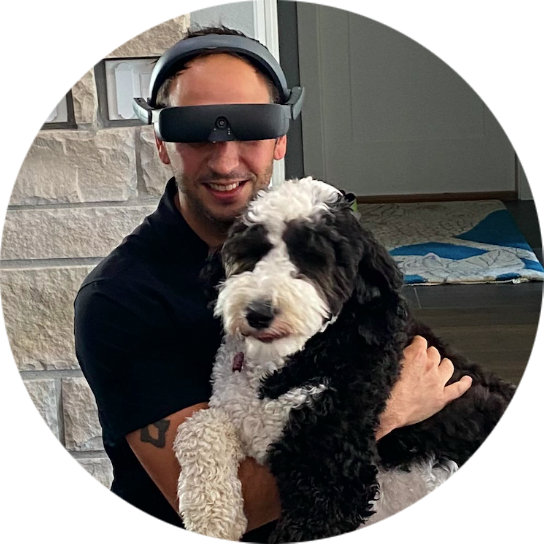 eSight 4 remains sleek in form, and enables optimal weight distribution for hours of carefree wearing, no matter what you have planned. The band is lined with a soft fabric, with a new halo comfort band that easily adjusts to provide an individualized fit. This unique design ensures there is no weight on the sensitive bridge area of your nose, while the new vents and added space provide for superior ventilation.
Ease of Use
"Getting started with eSight 4 is easy for someone with a visual impairment. It includes voice prompts and onboarding videos to guide you through the short set-up, and it teaches you all the basic functions so you are confident to begin using it on your own." – Jason Osborne, 41 years old, Stargardt's disease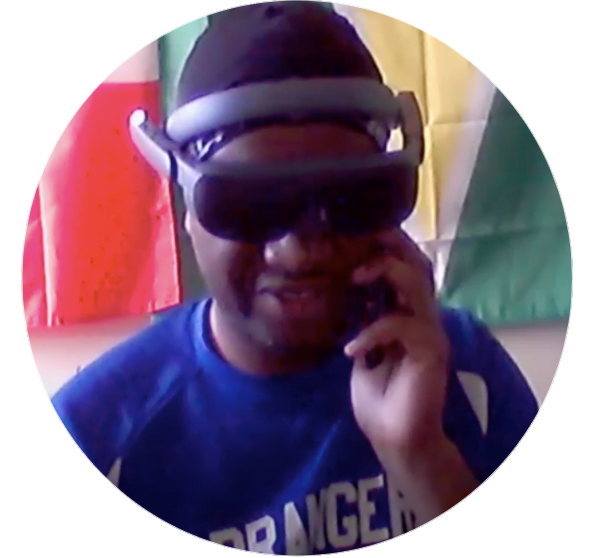 You can start and return anytime to our narrated, high contrast, onboarding videos. Our new graduated learning system allows you to learn more advanced features when you're ready, or take a break when you want to practice previous features. And with eSupport, our support team can see exactly what you're seeing, making issues easier than ever to resolve.
eSight 4's Added Connectivity
With eSight 4, we have added connectivity between your eSight and our cloud-based platform, your eSight and your smartphone, but also between you and your loved ones.
Connect in the Cloud
With our new cloud-based functionality, you can now instantly connect to the cloud to get instant access to our latest features, allowing for innovative community and support capabilities.
Connected Entertainment
We love seeing the photos and videos our users take using their eSight, and now you can even save these to your smartphone and share with others. You can also use the eSight companion app for Android and Apple to better control your eSight experience.
Stream videos from your smartphone screen in your eSight display with eCast. Take advantage of eMirror to view your phone screen directly on your eSight, with the ability to freeze, zoom, focus, and more. Use our new sharing functionality to invite your loved ones to see what you see and help you customize your eSight experience.
Connections with Your Community
We didn't forget about your loved ones in this launch. You can now invite others to share your account, so they can see what you see and help you further personalize your eSight experience.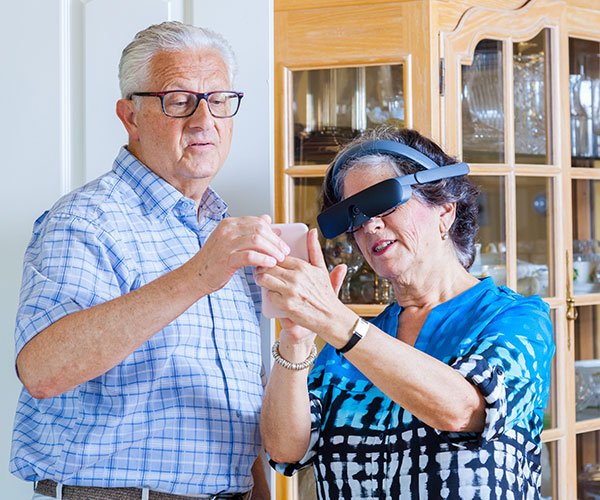 Users Who Have Experienced eSight 3 and eSight 4
Participate in School with Confidence
"I can see much better with eSight 4. The combination of the eSight 4 halo comfort band, the easy to change rechargeable batteries, and the significantly improved ventilation, means I enjoy the benefits of enhanced vision for more of my day." – Austin Pearson, 16 years old, High School Student, Nystagmus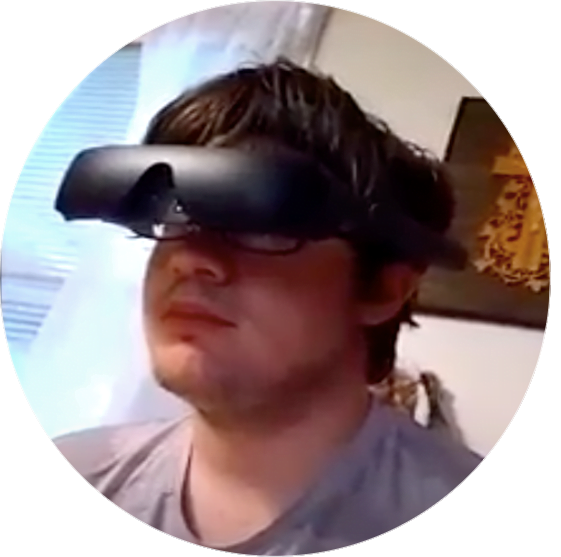 Austin can use eSight 4 to experience enhanced vision all throughout his school day: to see the board, take notes, and participate in his classes.
Play Sports Independently
"With eSight 4 I'm doing things I couldn't do before, like golfing independently. The contrast between the grass and the yellow ball is incredible. My first game out with it, I was able to sync some putts and make some pretty good drives. I no longer need help to find my ball after each shot." – Christopher Chiodo, 37 years old, Product Manager at Walmart, Stargardt's disease
Christopher uses his eSight 4 to differentiate between the grass and the ball while golfing by himself – something he could have never dreamed of doing before.
Enjoy Entertainment At Home or Outside
"I can now read the clock on my cable TV unit when sitting on my couch. It's also better for going out. " – Jason Osborne, 41 years old, Stargardt's disease
Jason uses his eSight to watch TV at home. It also helps him navigate when he goes out, and see the facial expressions on his friends' faces.