Introducing the New eSight 4
Get ready to see the world differently with the much anticipated eSight 4! We are so proud to launch a high tech aid that will set a new standard for enhanced vision technology.
We took everything you loved about eSight 3 and enhanced it to provide greater visual acuity, superior mobility and all-day use, and incorporate new advanced cloud-based capabilities and mobile apps.
Innovation is an on-going process
When we launched eSight 3 years ago, we knew we had a special product on-hand. We've had the pleasure of watching our wearers try new things and excel in them. From graduating from university to returning back to work, and we will always feel more inspired when someone sees their loved ones face for the first time.
We will never be complete in our mission to provide the best possible tool for you to see new possibilities and to create inclusivity. Innovation isn't a goal that you can check off when you're done. It's an on-going process that advances as new technologies are created, and as our lives and needs change.
Brand New Features and Upgrades
We built eSight 4 using extensive research with some of the industry's top thought-leaders. But more importantly, we built our next-generation enhanced vision device using the feedback you shared with us. You too had a part in creating eSight 4 and for that, we thank you.
You told us you wanted advancements in three key areas. This is just a little taste of the new features. Learn more about eSight 4's benefits, or how the new device differs from eSight 3.
Greater Visual Acuity
The new eSight 4 combines the best-matched camera, lens, and screens that are backed by powerful custom software to enable you to see more clearly and in greater detail. Best of all, you asked for saved custom viewing modes, and eSight 4 delivers! That means you can save your indoor and outdoor modes that are custom to your eye condition and switchback with a click of a button.
See Everything, From Your TV at Home to the Stadium Scoreboard
eSight allows you to zoom in and increase focus, and even take pictures of what you're seeing, along with a host of other features. This way, you can always watch your favourite shows and movies clearly, or remind yourself of the current score while watching the big game.
Mobility For Life On The Go
The new hardware design provides greater mobility and versatility that moves seamlessly with your life whether reading or out on the go. Best of all, the new eSight 4 is wireless and hands-free with built-in features you can control with a tap of your finger.
Commute to Work with Ease
Using public transportation can be a pain. With eSight's enhanced vision, you no longer have to ask others when your train is arriving. Plus, you can easily walk downstairs and maneuver between crowds in subway stations due to the new wireless design and bioptic tilt which enables you to incorporate your remaining peripheral vision while also seeing what's right in front of you.
Comfortable Design and Mobile Apps
eSight 4 was designed for comfortable all-day-use. The halo comfort band evenly distributes weight. But we didnt want to stop there. We also leverage the best of today's digital possibilities, eSight 4 provides advanced capabilities for support, entertainment, and connectivity. The new mobile apps enable you to cast entertainment to your device or invite loved ones to securely see what you see and help customize your experience.
Now Cloud-Based
With new cloud-based functionality, you can share your screen with your partner, children, or even your friends, who can then better understand how your vision works and can help you personalize what you see. They can also securely access your account to provide support and help update your settings. That same capability can be used by the eSight support team to help provide the best remote support and software updates.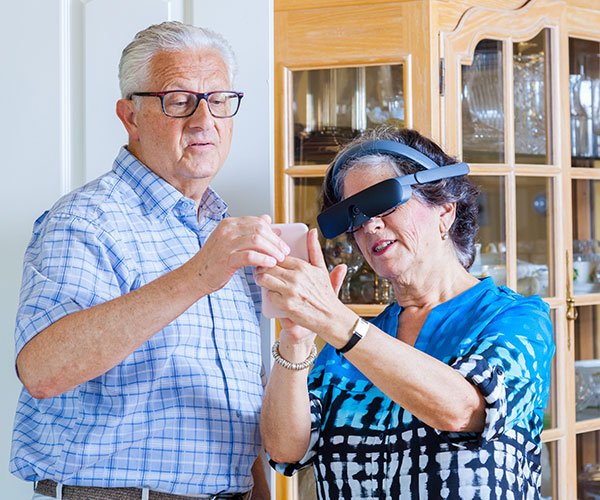 Feedback from Users on the New eSight 4
Don't take our word for it. Hear from some of our early adopters and their thoughts on the benefits of the new eSight 4.
What's Next for eSight
Our technology has changed but our mission remains the same. We still want to create more inclusive environments by empowering individuals with visual impairments to See New Possibilities.
As such we're working hard to make our assistive technology more accessible to the 285 million people living with serious visual impairments globally. This means expanding our work in the medical field, advocating for medical reimbursement and insurance coverage, and working with corporations through our eSight Workplace program to better create a more diverse workforce by providing the tools needed for people with visual impairments to succeed.
Inclusion and Diversity
Although we are still working towards making our assistive technology available to all those who need it, we have implemented other ways to foster inclusion and support within the low vision community.
Fundraising Platform
Our in-house fundraising platform, eMPOWER, has successfully raised enough money to purchase more than 800 eSight devices to date. We provide assistance and support during each person's fundraising journey.
#eSightTogether
At the beginning of the pandemic, we launched #eSightTogether: a place for those with low vision to get resources and learn about how to adjust to living in these new times. Non-eSight users and eSight users alike can join online eSightTogether webinars twice a week to connect with others living with visual impairments and hear from prominent influencers, like Sam Seavey of The Blind Life.