Sam Seavey
Sam Seavey is a legally blind YouTuber of the Blind Life who has been making videos about assistive technology and apps for low vision for almost seven years. He was diagnosed with Stargardt's in 1985, and his sister received the same diagnosis.
Although he was around 11 years old in 1985, it took him until the age of 30 before he came to terms with his vision impairment.
Featured Webinar: Sam Seavey from The Blind Life hosted a webinar reviewing his favourite accessible apps, and answering assistive technology related questions from the webinar participants.
Watch the webinar on-demand here
Beginnings on YouTube
One day in 2013, he logged onto YouTube to search for Stargardt's related content and was dismayed at the lack of videos. Considering he had all the videography equipment he needed, as he was employed by another YouTube channel at the time, he decided to embark on his own YouTube journey and created "The Blind Spot," later renamed to "The Blind Life."
Balancing Two Jobs
Sam currently works part-time for BlindShell, a Europe-based company, so he must continually balance his job as a BlindShell product representative with his other job as a content creator on YouTube. Sam uploads new YouTube videos to his channel once a week.
After this brief introduction and discussion of his YouTube journey so far, Sam then took to answering questions from the eager audience.
Android vs Apple
Sam has both Android and Apple technology, as even though he prefers Android, he can see how they each have their own benefits. Sam was an assistive technology trainer for 4 years so he has learned both systems very well, and as a result he concluded that there is no blanket statement for which one is better as it always depends on the user's personal situation and budget.
He recommends that if your visual impairment is not too strong, Android may be better because it is very customizable and has better magnifiers. However, if your visual impairment is to the point where you rely more on screen readers, Apple is better because its VoiceOver functionality is superior and the iOs system is easier to learn for beginners.
Tech for the Profoundly Blind
For those who are profoundly blind, Sam reinforces that while it always depends on your goals and needs, magnification is likely less important than audio feedback. In this case, a smartphone is a great piece of assistive technology, and the weWALK cane is also a great option for full-time mobility cane users.
Searching Sam's Channel
For those who want to learn more about Sam, he recommends watching a video he made about his vision story on The Blind Life, but for those looking for a particular topic on his channel, he suggests using the search tool on the rightmost tab on his channel to type in keywords.
Low Vision Apps for iOs
Sam endorses

Seeing AI

because it is free and checks the boxes of many common requirements for low vision users.

KNFB Reader

is a dedicated document scanner that does not require you to be on wifi or mobile data for it to work. He admits that it is not the cheapest app but it does go on sale.

In terms of navigation apps, he brings up

Nearby Explorer,

Right Hear

, and

Microsoft Soundscape

.
Assistive Technology and Apps for Reading Sheet Music
Sam typically uses his 40-inch monitor to zoom in when reading sheet music. However, he also recommends Dancing Dots as an accessible app for those with low vision or no vision to read, write, and record music.
Alternatives to "Plain Jane White Canes"
A smart cane, Sam describes, is any kind of cane that uses some type of technology. Some smart canes can even connect to smartphones.
Companies like Ambutech create custom canes with different colours, but it is important to keep in mind that it might interfere with white cane laws in some states and it could decrease identification effectiveness.
Finances on YouTube
Sam explains that on YouTube, when you get to a certain level, you are eligible to receive ad revenue from Google. However, he clarifies that he definitely does not earn enough from AdSense alone to support his family.
On the other hand, there are ways he supplements his income outside of YouTube, by selling his own shirts on Amazon and TeeSpring for example. He also works with organizations to sponsor videos or create ads on The Blind Life.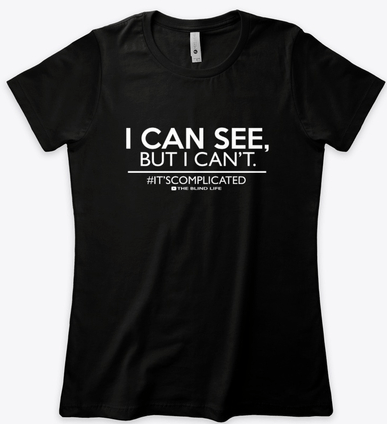 Video Games
Although Sam used to be a big fan of FPS games, while trying to play the newest Call of Duty game, the graphics were too washed out and the contrast too low for him to be able to play it.
Instead, he now gravitates towards games where he has more control over graphics, such as Minecraft, where he can use special texture packs to smooth out all the textures. Additionally, he has been playing Sea of Thieves lately, an open world pirate game with cartoony graphics that are still high quality, but much easier on his eyes.
Being a Low Vision Student
In terms of giving advice to prospective college students with low vision, he encourages taking advantage of the assistive technology and apps that are available now that he did not have access to when he went to school. Even though it may not be fun to have the conversation with your professors that you may need extra time or help, it is sure to benefit you in the long run.
As well, working with accessibility counsellors is a great way to make sure you are receiving the aid that you need. He reinforces that there is nothing to be ashamed of when asking for help as there are a lot of people in the world with some type of visual impairment, so just do everything you can and be open to trying new things.
Creating Videos
When filming videos, Sam always has his 10x pocket magnifier within reach, as well as easy access to his 32-inch Samsung TV which is connected to his camera to essentially function as his monitor. Once he sits down to edit on his computer, he uses Windows Magnifier while looking at his 40-inch Samsung TV. While it does take him longer than most people, he grins as he explains that what is most important is he always gets the job done.
For a closer look into the process, Sam recently made an in-depth video about how to start a YouTube channel as someone with vision loss.
Attending Live Events and Concerts with Low Vision
Sam's advice to those who live with vision loss but love attending live concerts is to try large VR style goggles, such as eSight. He recommends putting on your preferred device at the beginning to get a grasp of what's going on, and then taking it off to just sit back and enjoy the music. You always have the option of putting it back on if something changes on stage, but you likely do not want to wear it for the whole time.
Did you find Sam of The Blind Life's, assistive technology and app suggestions helpful? Read more about parents' favourite accessible entertainment for their low vision children.