Watch the Webinar| Meet Your Presenters | Learn About eSight | Clinical Findings | The Making of eSight 4 | eSight 4 Demonstration | FAQs
Watch the eSight 4 Webinar for Low Vision Specialists
Dr. Scott Gartner of the Lighthouse for the Blind, joins eSight's Chief Technology Officer, Charles Lim, and Clinical Account Manager, Jordan Finewax, to discuss the new eSight 4 in this special webinar designed specifically for low vision specialists.
The Speakers
Dr. Scott Gartner, Lighthouse for the Blind in Palm Beaches
Dr. Scott Gartner has also been a part of eSight since the beginning having participated in the eQUEST study and continuing to share eSight's technological advancement with his low vision patients.
"I'm excited to see how far it (eSight) has come."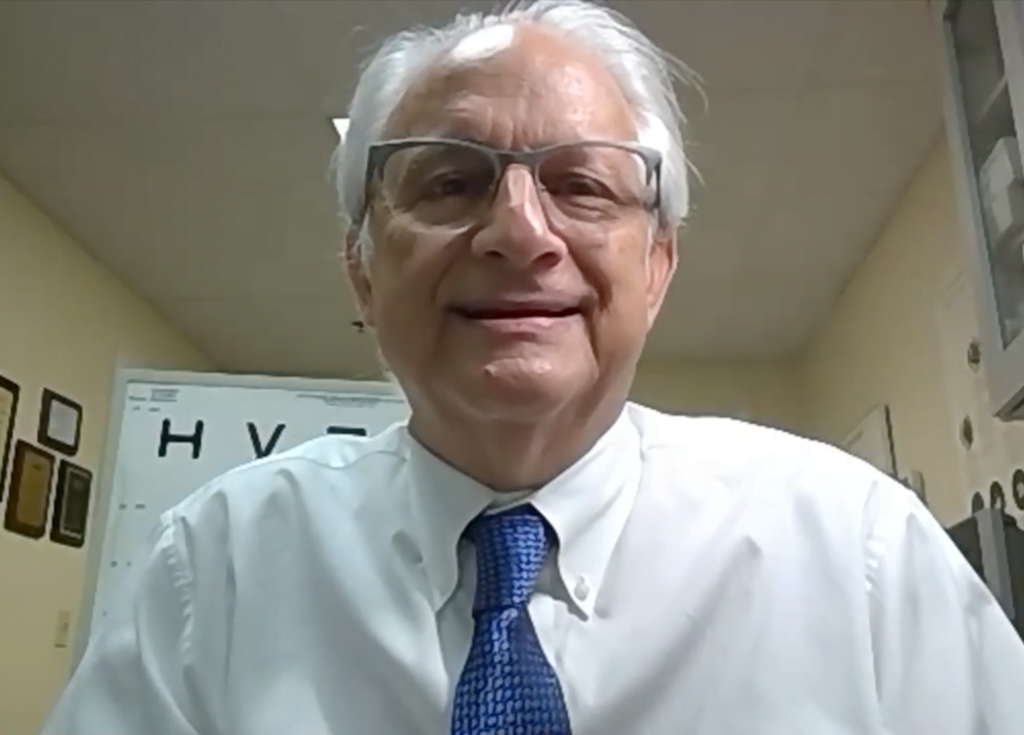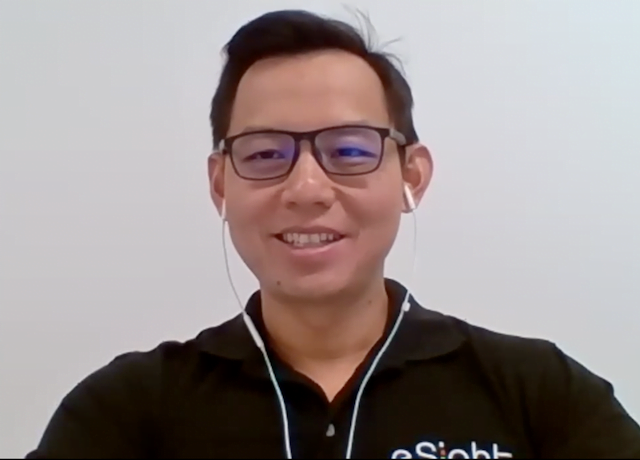 Charles Lim, Chief Technology Officer, eSight
Charles Lim leads eSight's research and development team who oversaw the making of the new eSight 4. Charles shares the learnings and needs of people with low vision in a head-mounted device.
"To be able to use technology to help people improve the quality of their life, is nothing short of amazing."
Jordan Finewax, Clinicial Account Manager, eSight
Jordan is eSight's Clinical Account Manager where he works directly with eye care specialists to provide the trainings, equipment and collateral to best support their low vision patients.
"eSight 4 was created for the low vision community, with the low vision community."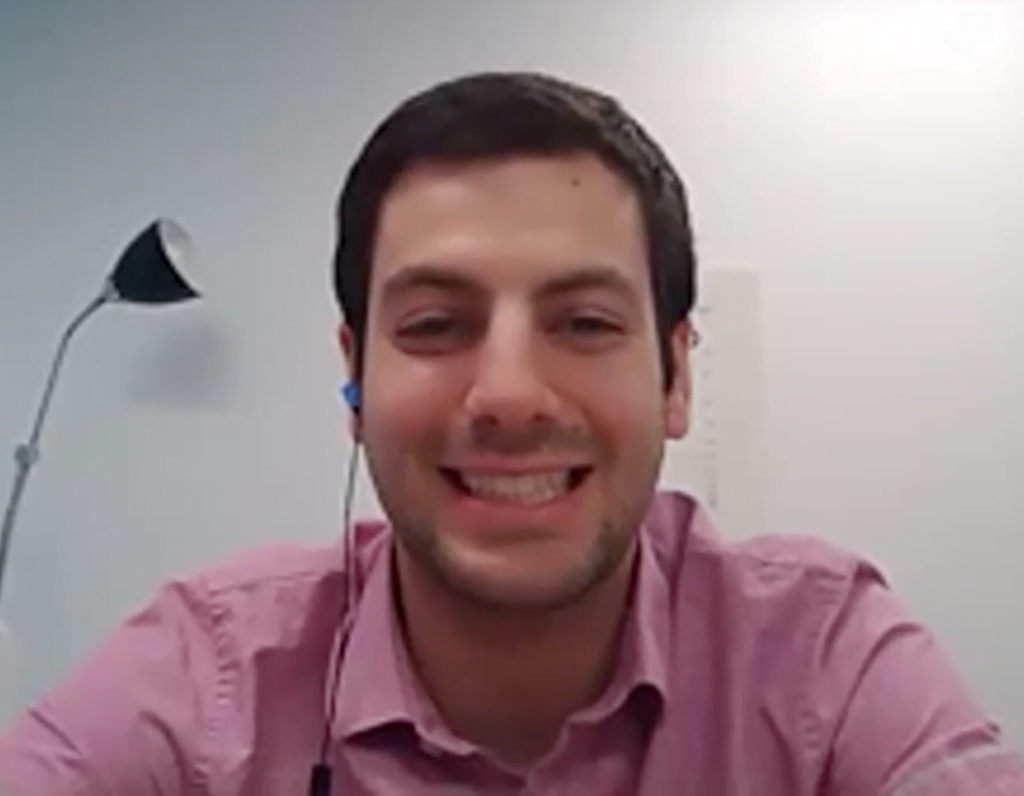 What is eSight?
eSight was founded by an engineer named Conrad Lewis. Conrad created eSight to help his two sisters who live with Stargardt's disease, see and be more independent. Since then, eSight's technology has gone on to win a number of awards.
What Makes eSight The Premiere Solution for Low Vision Patients?
Charles Lim shares why eSight 4 is the premiere solution for low vision patients.
Charles explains that unlike most devices that take existing technologies like a phone into a VR headset, for example, eSight designs all aspects including the software and hardware from start to finish.
This is important as every aspect of the device is designed for low vision users as the primary focus.
"We build all the pieces to make a quality product," shares Charles.
How does this High Tech Low Vision Aid Work?
Charles explains that eSight's low vision aid is powered by advanced camera sensors and backed by smart algorithms that bring a more clear image to the screens right in front of the eye. By doing so, eSight is able to stimulate the synaptic activity in someone's eye and feed the brain with more visual information. For a user, this can clear up blind spots and provide a more clear and full picture of what is in front of them.
What eye conditions does eSight work for?
With 7 million people in the US affected by low vision, Jordan explains that eSight can work for a large portion of those people. Specifically for patients experiencing the following:
Central vision loss
Living with one of 24 eye conditions including macular degeneration, Stargardt's disease, diabetic retinopathy and optic nerve hypoplasia for example.
Best-corrected visual acuity of 20/60 to 20/800 but in some cases, eSight has been effective for up to 20/1400.
Greater field of view of 15 degrees due to the prism system.
People who are somewhat comfortable with technology.
Clinical Validation Study in Partnership with Low Vision Specialists
eSight partnered with six low vision institutions to perform a clinical validation study of eSight's sight-enhancing principles. The study took place over the course of three months where patients were tasked to do things like identify facial expressions and find specific items at the grocery store. Participants showed:
A second-line gain in distance acuity
12 letter contrast improvement
100% mobility retention
Dr. Scott Gartner weighed in to share his own patients made up 12-15 of the participants in the study. He shares
"One thing that eSight has more than other displays is that you can maintain mobility. You can walk around with it. Other devices you can't get up and start walking because it limits your peripheral vision."

Dr. Scott Gartner
Dr. Scott Gartner also shares that the guidelines of having 15 degrees field of view and central vision loss are just that, guidelines. In fact, one of his patients who lives with retinitis pigmentosa experienced sight enhancement using the contrast feature.
What else did he find interesting?
"One part that was interesting in facial recognition which is usually a contrast issue. Changing the contrast helped. It wasn't just about making the product bigger, it was playing around with contrast that helped them see different facial expressions.
What Was the Vision for Creating The Next Generation of Low Vision Technology?
Charles explains that eSight 4 has been in development for two years now. He and his team worked closely with people of low vision to take the time to understand what they want through survey analysis, tests and multiple iterations where they used 3D printed parts. Users would provide feedback on the comfort and tilt functions. The team also looked deeply into the user experience designs to minimize steps and make the device more intuitive.
Through this process, Charles and his team heard from users saying they want a device that would:
Increase their independence
Increase their capabilities
Provides better vision
Allow them to retain their mobility
Be easy to use
Be comfortable to wear all-day
Charles and the team also wanted to make a device that was "future proof." This is why they created a cloud-based platform that can receive software updates and have new features added as they are developed.
The End Result
With the feedback from the low vision community in mind, Charles' team focused on four key areas and accomplished what they set out to do.
Greater Visual Acuity
eSight 4 provides greater visual acuity allowing more success for more patients. The device has better autofocus and algorithms for clearer and sharper vision. It can provide more detail in low light conditions. And the users can incorporate their own personal eyeglasses.
Superior Mobility
eSight 4 retains the patented bioptic tilt of previous generations that incorporates the patient's existing peripheral vision to enable true mobility. The device is now wireless and includes swappable batteries for all-day use
Comfort
The design introduces the new halo comfort band which provides a more balanced weight distribution, and adjustable arms to move the eyewear closer or further from your eyes.
"What's interesting for us is that one of our users didn't realize eSight 4 was on his head for three hours when he had to change the batteries."

Charles Lim
Ease of Use
Charles and his team wanted the device to be easier to use so that everyone from kids as young as five-years-old to seniors with little technical experience could use it. That's why there's a touchpad built into the headset with access to the main features.
Demonstration of eSight 4 for Low Vision Specialists
eSight 4 is Ready for Today's Digital World
eSight 4 is what Charles calls "future proof." eSight 4 launched with new mobile apps, and ability to connect to HDMI and stream videos. The new cloud-based platform also enables software upgrades and new features to be rolled out without the purchase of a new device.