Meet Michelle Faulkner from Charlotte, North Carolina who was diagnosed with Diabetic Retinopathy in her right eye and Glaucoma in her left eye.
Losing Her Vision
Michelle first noticed her vision issues after her first laser surgery to treat diabetic retinopathy. The white traffic lines on the road became hard for her to see and she began to squint more at her computer screen and paper work. Eventually it became so bad that she had to purchase readers and ask for assistance from her co-workers. Michelle then realised that it was time to revisit her doctor. During her visit, her doctor told her that scar tissue had detached her retina and she was rushed to emergency surgery to reattach it. The surgery was successful, but she lost her peripheral vision in her right eye and now faces endless vision-related issues.
When it became necessary to operate on her left eye, her pressure increased to 56 and she was referred to a glaucoma specialist. After following a treatment plan, the pressure in her eye decreased but still remained too high. To further reduce the pressure she had a shunt surgically placed in her eye. After her 4th follow-up she lost almost all sight in her left eye. Now Michelle had to "learn how to live blind."
"I miss being able to just see"

Michelle
Discovering eSight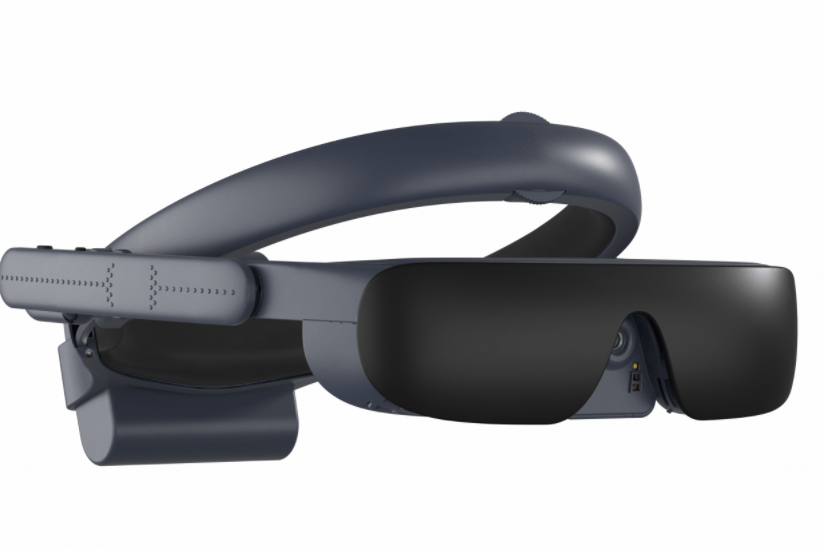 In the past, Michelle has tried multiple low vision solutions such as readers, glasses with interchangeable lenses and Mighty Glasses. But she never found them to be strong enough for her eyes.
"I would try like crazy looking through magnifiers, or I would get people to do things for me. But I would have to wait."

Michelle
It wasn't until she was scrolling through Facebook and saw an eSight device ad that she finally had hope that she might be finally able to see her children and grandchildren's faces again. She called the available number and got in contact with an eSight specialist who arranged for an in-person trial. "It was amazing," Michelle said. She cried during her evaluation session as she was finally able to see her youngest daughter's face after many years. Michelle was then given an eSight device to bring home for a trial week. She loved that eSight was like having two TVs right in front of her eyes. As well, she loved the magnification features! She could stand on her front porch, increase her device's magnification by 24 and see into the windows of the Church across the road. Once the week-long trial was over, Michelle knew that she had to own this device. 
Then the Covid19 pandemic began. Everything was put on hold. Soon after Michelle saw an ad for the new eSight 4 device and her desire was reignited. She had to have this new device!
Life With eSight
From sewing, antiquing, making soaps, chapsticks, candles and even attending car shows, Michelle is a woman of many hobbies and talents! But when she lost her vision she also lost her ability to sew in a straight line, see the edge of her soap and candle moulds, and enjoy a car show.
With her eSight, she has been able to return to her favourite hobbies! While wearing her device she can see the top edge of her soap moulds so she knows when to stop pouring. She can see the colours of her fabrics to a greater degree and she even sewed a jacket for her boyfriend!
Michelle also says that her eSight device is a must for when she goes antique shopping! Without her device she would have had to follow the silhouette of the person she was shopping with. As a result, it would bother her that she was unable to look around on her own. With her eSight she can freely wander through the venue and see all the details in the antiques before her.
"I can't imagine my life without my eSights now"

Michelle
Although Michelle is grateful for her eSight and the activities that it allows her to accomplish, it did take some time to integrate it into her daily activities. Michelle had to relearn old skills, such as how to sew. She always had a knack for cutting the material and sewing it when she was younger, but when she lost her vision she had to start all over again. Since she could no longer rely on her vision to cut fabrics she needed to learn how to use paper patterns. This meant learning new terminology and techniques. With eSight, she now threads a needle just like before.
"It was nice to be able to see to do it."

Michelle
The eSight Experience
Michelle has been using her eSight for about 2 years, but she says that "it feels like it's not long enough."
She is now a member of eSight's purchase program, but was initially introduced through the rental program. Michelle admits that she was worried in the beginning, but the representatives at eSight were so helpful and patient that it made the process simple and stress free. Her transition from the rental program to the purchase program was also just as easy. 
"I recommend them to everyone that is visually impaired because they really improve your quality of life"

Michelle
Along with the great customer service and financing help that Michelle has received, she loves the coaching program that eSight offers. Michelle worked with Coach Cathy when she first got her device and was taught all about the different functions that each eSight device offers. She learned how to take pictures and videos, as well as how to upload them to her computer or phone. Her coach explained everything in a way that was easy for her to understand, even though there were a lot of options and functions available to her. They were patient and very understanding when she had to call them back to explore more settings. Today Michelle only has small check-ins with her coach, but she knows that eSight's network of device users and customer service representatives are ready to help her whenever she needs it!
"Life is too short to not enjoy it, but I don't think I could fully enjoy it without my eSight"

Michelle
Hear Michelle talk about how her eSight has helped her return to the activities that she loves…
Did you enjoy reading Michelle's story? Read more about Shana Newton, and how eSight is making her life simpler.
Want to learn if eSight will work for you? Fill out our online form today.