Hugh Montgomery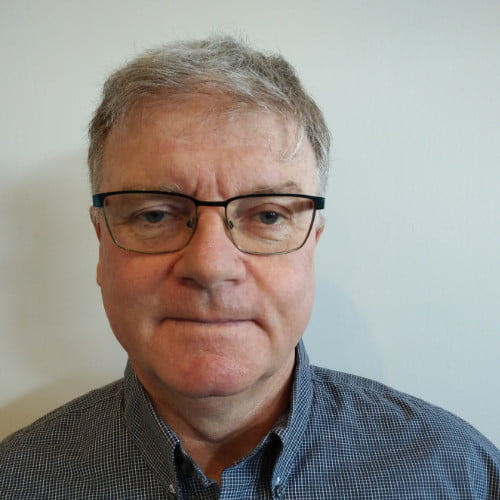 Hugh Kenneth Montogomery is 61 years old, and lives in Ontario, Canada. He has been married to his lovely wife Laurie for 35 years now, and is the proud father of three children. Hugh was diagnosed with Stargardt's Disease sometime during 1984-1985, and has a visual acuity of 20/300. However, that has not stopped him from living a fruitful, low vision active lifestyle.
For the majority of his life, Hugh worked at Bell until he retired in 2013 after 37 years of service. His roles varied from Residential Phone Installer, to IT Senior Business Analyst, to Senior Project Manager, and finally to Senior Business Solution Advisor.
"I had the pleasure of using eSight for the last 18 months of working at Bell and it made a large difference in my productivity, ease of work, and personal engagement."
Benefits of eSight in His Low Vision Active Lifestyle
He purchased his eSight in March of 2013, and found that his visual acuity sharply rose from his prior 20/300 to an astonishing 20/40. It enabled him to perform day-to-day tasks with less difficulty, as he describes the eSight as being "fully mobile with no limitations."
Other than helping Hugh perform his job with greater ease, Hugh was able to use his eSight to read smaller print in newspaper, menus, books, and more. He could write letters, notes, and cheques without difficulty, and he could watch the TV from a normal distance using either the normal eSight or by leveraging the video functionality.
"eSight has enhanced my social engagements by allowing me to see facial expressions from a normal distance like when sitting around a table, and allows me to position myself according to personal needs rather than visual requirements."
As well, he loves that the eSight fits in with his low vision active lifestyle, especially as a blind golfer, which allows him to be more independent. Even though he has low vision, he has played golf for 30 years since his Stargardt's disease diagnosis.
Working at eSight
After retiring from Bell, Hugh joined eSight as a Lead Ambassador until he was released in 2018. He was crucial in helping to set up the Ambassador program, and setting up the eSkills program for eSight versions 1, 2, and 3.
"I had, and still have, a personal goal of ensuring that every eSight client gains the vast benefit that this technology brings into their lives."
Catching Up with Hugh Today
Hugh is currently on the board of directors for OVIG (Ontario Visually Impaired Golfers) and is working as an IT Lead Business Analyst in the Telco industry.
Did you enjoy reading about how Hugh uses eSight in his low vision active lifestyle? Read more here about Hugh's tips for blind golfers.