Jeanette Contant-Galitello, also known as the musician Kiskadee, was born with Peters anomaly and is an eSight coach.
Discovering eSight
Born partially sighted, Jeanette Contant-Galitello was diagnosed with the rare eye condition, Peters Anomaly. Having been legally blind all her life, Jeanette thought she had tried every device out there. So she was surprised to learn that her husband had discovered a vision-enhancing tool, eSight.
Upon researching the device, they found a location nearby where they could try it out. Bearing in mind Jeanette only has a little bit of eyesight that lets her see general pictures, she was not sure what to expect when she put on the device. Once she had the eSight on for the first time, Jeanette immediately was able to see clearly, gaining the visual acuity that could allow her to read the fine print on a menu. This experience left her in complete awe. 
"That blew my mind, and I thought I had to try out this device. So I took it home, had a trial of it, tried it out, and all kinds of things, and I was sold."

Jeanette Contant-Galitello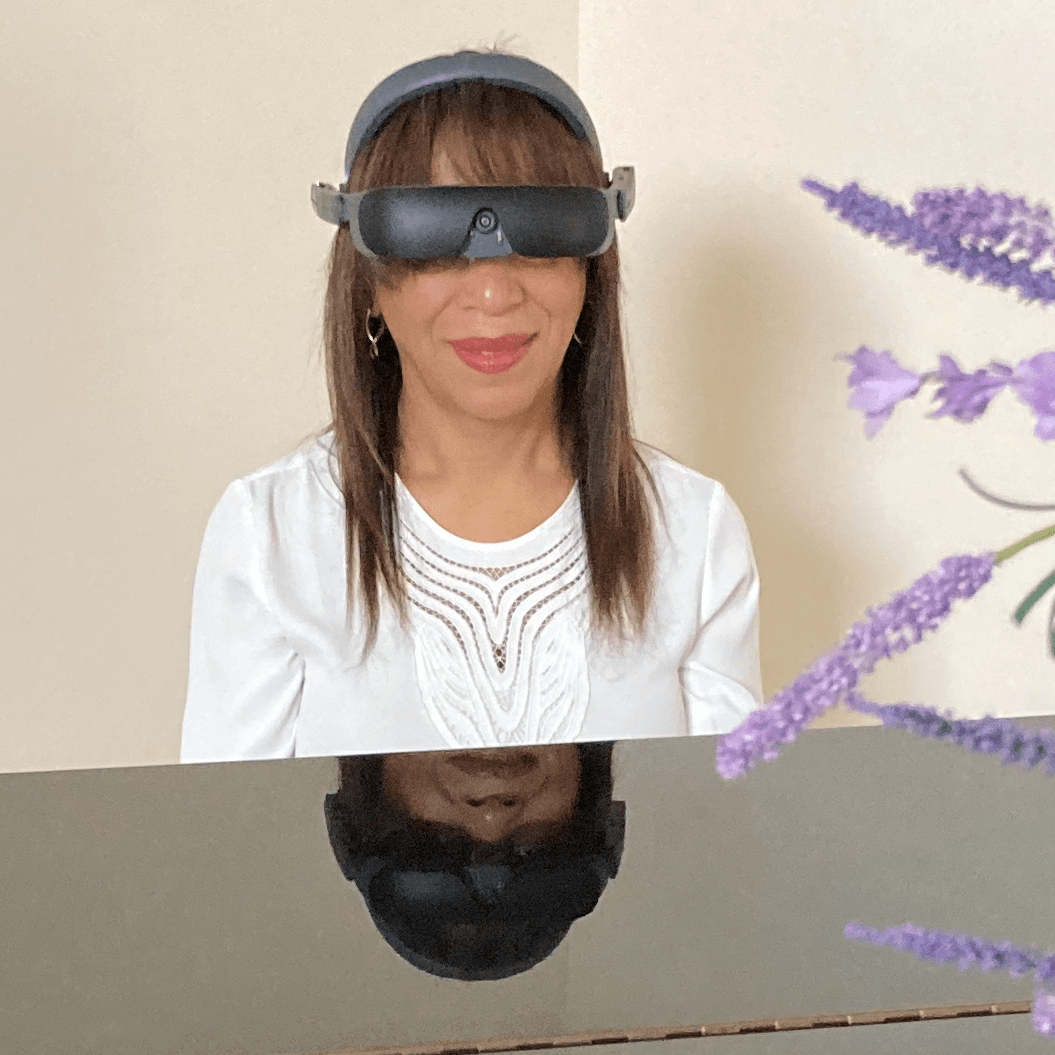 ---
Life With eSight
Jeanette uses her eSight for several different activities, which makes a positive  impact on her daily routine. eSight has opened the door for her to read books, menus at restaurants, and texts on her phone. With eSight, Jeanette finally has a device that  helps her  write notes and shopping lists, which other assistive technologies did not help her with. Since getting her eSight, Jeanette has had experiences she otherwise would not have. Now she can see someone wave from across a room or see concert performers on stage. These experiences have had a big impact on Jeanette's life.
"It's wonderful to be able to see somebody smiling or nodding. Before I had eSight, these are the kinds of things I would never have known. Now with my eSight, I can see people's interactions, and these little moments are what make a huge difference."

Jeanette Contant-Galitello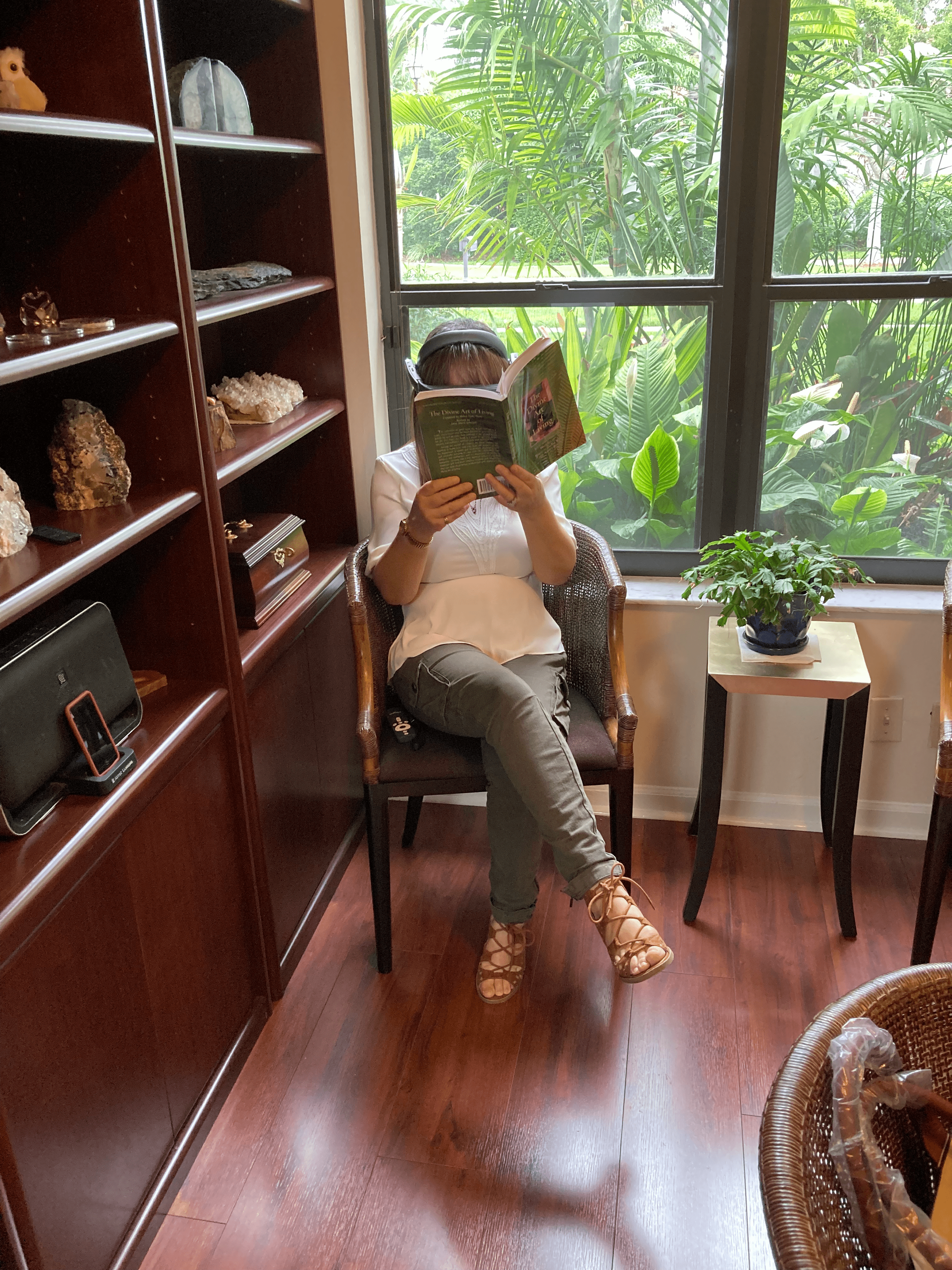 Enhancing Low Vision Toolkits
Though she's acquired a lot of low vision tools over the years, Jeanette has found that her eSight has replaced most of the various equipment she used to rely on. Now, instead of using devices like electronic hand-held magnifiers or CCTV's, Jeanette can use her eSight. For her, the device gives provides more freedom and mobility to do the things loves, whether it's reading a recipe or gardening. 
Her eSight has given her the ability to use non-tactile technology such as controls on a dishwasher or microwave which she didn't have devices to help her with before. On top of this, with eSight Jeanette can get ready for her performances more easily. This is significant for her because it allows her to feel more confident as she steps in front of a crowd and focus on the music she's about to play. Though the eSight has replaced most tools, there are some that she still finds handy. For Jeanette, the eSight is the perfect device to optimize her low vision toolkit.
"There are other tools that I use, and they integrate very well with the eSight."

Jeanette Contant-Galitello
Hear first-hand how Jeanette's experience with eSight has helped enhance her low vision toolkit see new possibilities of what she can accomplish. 
Being A Coach
As someone who has worked in assistive technology, becoming an eSight coach has allowed Jeanette to do what she loves most, which is to help people. Jeanette helps those in the low vision and blind communities learn how they can enhance their low vision toolkits with eSight. By training others to use the device, sharing her experience and the hope she's gained from eSight, she's able to empower countless lives. For her, it's about helping them experience the impact eSight can have on their vision journey.
"You experience, through the eyes of people, the joy that a product like eSight can really give to people."

Jeanette Contant-Galitello
Did you enjoy reading Jeanette's story? Read more about eSight user, Sandra-Lynn, and how she was able to compete in the Special Olympics thanks to eSight.