Rhylee Hinkle, 12 years old, is a student diagnosed with nystagmus, optic atrophy, cortical visual impairment, strabismus, homonymous hemianopsia, and amblyopia.
Life before eSight
The first thing doctors noticed when Rhylee was born, was that she wasn't breathing. Since then, she's been seeing specialists who have diagnosed her with multiple eye conditions for the past 12 years. 
Rhylee struggled to navigate through large crowds of people, and  easily became tired or overstimulated. Eye fatigue made it difficult  for Rhylee to focus. She couldn't see the T.V., play sports like basketball, or read small print without having the text at her nose until Rhylee and her mom decided to try eSight in Charlotte, North Carolina. 
"Before we had a hand held magnifier, a cctv, a monocular, a dial magnifier, all of these things she had to carry around, and the eSight puts that in one [device]."

Rhylee's mom
Life with eSight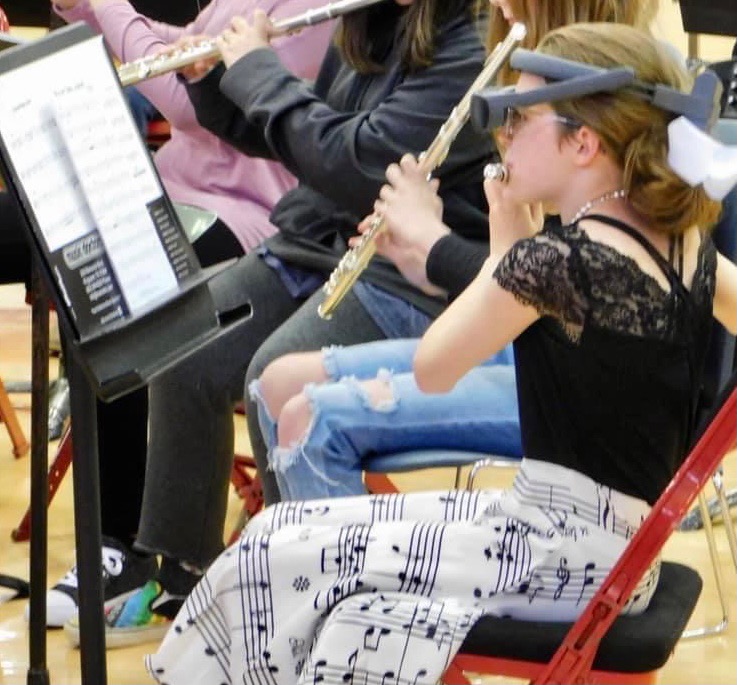 For once, she was able to read comfortably with 20/10 vision using eSight. As to Rhylee's mom's surprise, she could identify their car and read the licence plate number despite being 5 floors above the parking lot during her evaluation of eSight.
With eSight, she can read sheet music for her flute performances, see the blackboard without sitting accommodations, and watch her sister's dance recital or her favourite football team play.
"I can take my eSight anywhere because it is very mobile, which allows me to see things I would have otherwise."

Rhylee Hinkle
Hear Rhylee talk about how eSight enhanced her experience at school and helped her regain her independence.
Life After eSight 
Rhylee is unstoppable, her mom describes. With her new eSight, Rhylee can confidently complete tasks by herself and participate in band performances!
Did you enjoy reading Rhylee's story? Read more about CNIB Award Winner Jaclyn Pope, and how she's pursuing a second career in web design.