Meet Velma Baudette from Brandon, Manitoba who was diagnosed with macular degeneration. 
Life before eSight
Velma Baudette began noticing her decreased vision when she went to read her phonebook and realized she could not see many of the words. the words became so small and were extremely close together which made it difficult for her to read. She mentioned  how finer details became blurry as she was diagnosed with macular degeneration. She struggled to read the mail, cards and other fine print items which led her to realize that her vision was decreasing.
With the impact of her visual impairment, Velma had to give up one of her greatest hobbies which was sewing. She speaks about how she hopes to get back to it one day as it was a big passion of hers.
Before trying eSight Velma tried using a handheld magnifier to help with her vision but the intensity was not powerful enough to help her see with her condition in all situations. This is when she was introduced to eSight and the rest is history.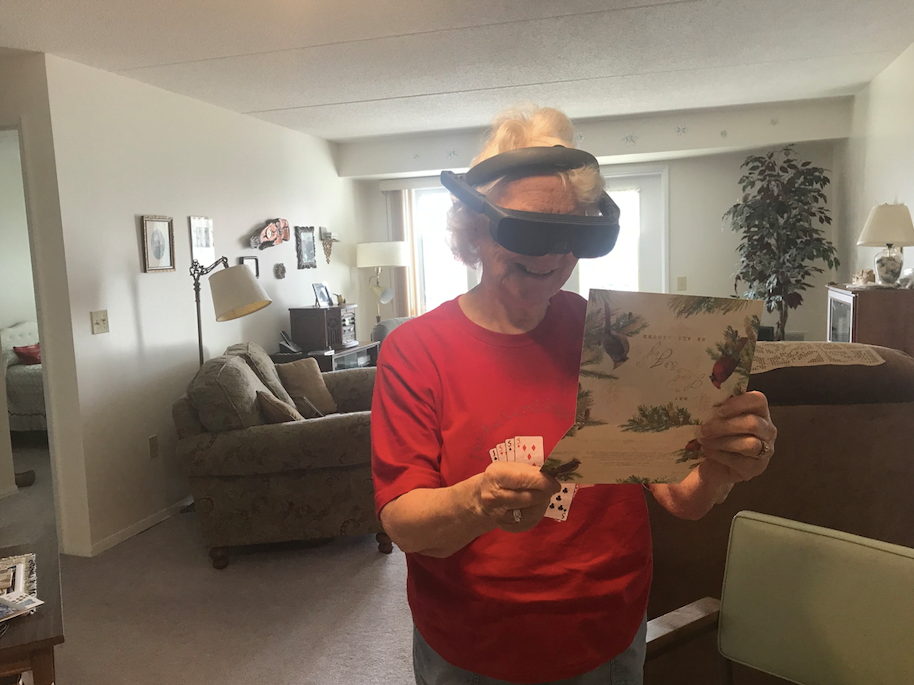 "eSight has made it possible for me to do a lot of things that I couldn't have done otherwise"

Velma
Discovering eSight for their Mother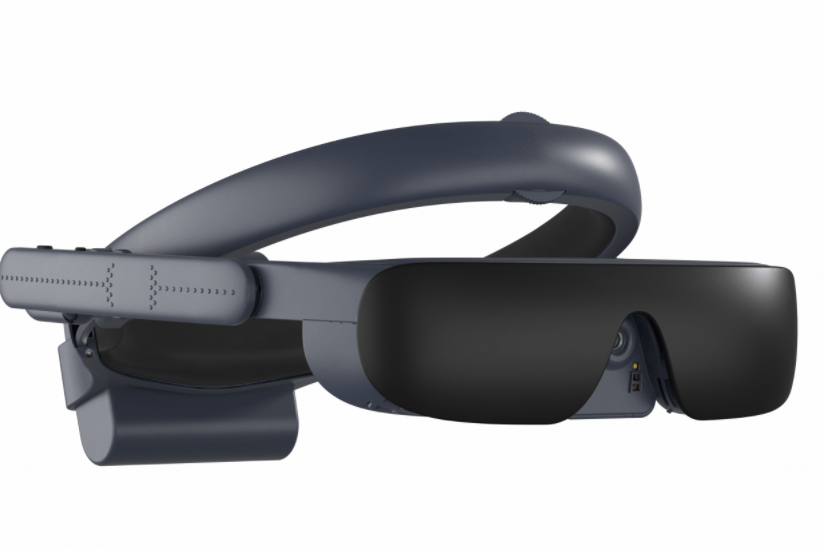 When Velma's children first discovered eSight, they began researching the product and realized that it  was a great fit for their mother. With the help of her friends, Velma was able to try out an older model of the eSight device. Velma expresses how a friend set up five items in front of her and she was shocked that she was able to see them at such a far distance. From there her son was sold and was confident that eSight could significantly help his mother.
"I was amazed, I could identify every one of the items with the eSight."

Velma
She was able to continue her hobbies like scrapbooking, reading the newspaper and the mail and was able to perform everyday tasks with ease. She recalls not having to wait on someone to come around  if she needed help with anything. Since Velma lives on her own in an independent living unit,  she does her own cooking and cleaning which can be difficult as a visually impaired individual with macular degeneration. Now, with the eSight device, she is able to do these everyday tasks simply with eSight's  assistive technology. 
Life With eSight
Velma received her eSight 4 around December 2021 and was able to begin practicing and using the device. She was able to adjust fairly quickly to this new technology as a nearly 90 year old woman! Having used older eSight models previous to this, she expresses how much she loves the wireless capabilities and shares how it allows her to have optimal mobility when using the eSight 4. 
When asked if there is a function that stands out with her eSight device, Velma mentions how the everyday uses of the device are the best parts. She also expressed how the zoom in feature  is extremely helpful for her, when doing her hobbies and completing tasks.
"I can go see a movie now which is very different to before feeling like I was listening to the radio."

Velma
Her son also mentioned how eSight can be incredibly helpful for seeing handwritten recipes and cards which makes for an invaluable experience. As a mother, grandmother and great-grandmother, Velma cherishes the words of her relatives and with the eSight she is able to go back and reread these heartwarming messages from loved ones. 
"Handwriting really beat me until I had the eSight!"

Velma
The eSight Experience
Ms. Baudette tells us how she finds eSight to be the best option for her and her condition. She explains how she tried other magnification devices which she did not find success in as they  relied on central vision which was not an effective fit for macular degeneration and the vision loss that Velma is experiencing . 
Velma has been using an eSight device for the past four years and expresses that the best part of her experience with eSight has been her interaction with the eSight coaches. She explains how they were extremely helpful and patient through her onboarding process and led her to feel comfortable with her eSight device. 
"The coaches understand and know where we are coming from."

Velma
She explains how the device's portability allows her to take it around with her and she is able to always have it with her when she needs her eSight. Her son expressed how the technology in the eSight 4 has incredible automation, allows for less intense training sessions and is easy to use for newcomers who want to try out the device. 
Her children told us how the eSight device was able to improve their mother's quality of life which is something they greatly appreciate. Her daughter recalls Velma needing more technical support with her iPad than her eSight!
"I've seen what it's done for mom and I just can't say enough!"

Velma's son
Hear Velma talk about her children discovering eSight for her and how it has improved her life
Did you enjoy reading Velma's story? Read more about Michelle Faulkner, and how eSight is making her life simpler.
Want to find out if eSight is right for you. Fill out our online form today!