Zara Gandhi was born with a visual impairment exacerbated by nighttime darkness.
The last time we caught up with Zara Gandhi, the spunky outgoing girl had just been given the gift of sight, thanks to the generosity of iGan Partners.
Zara was born with a rare eye condition called Leber's congenital amaurosis. The eye condition makes it even more challenging to see at night time for Zara. Often when her family would go for late-evening walks, the 10-year-old would need to hold one of her parents' hands to stay safe.
Zara Discovers eSight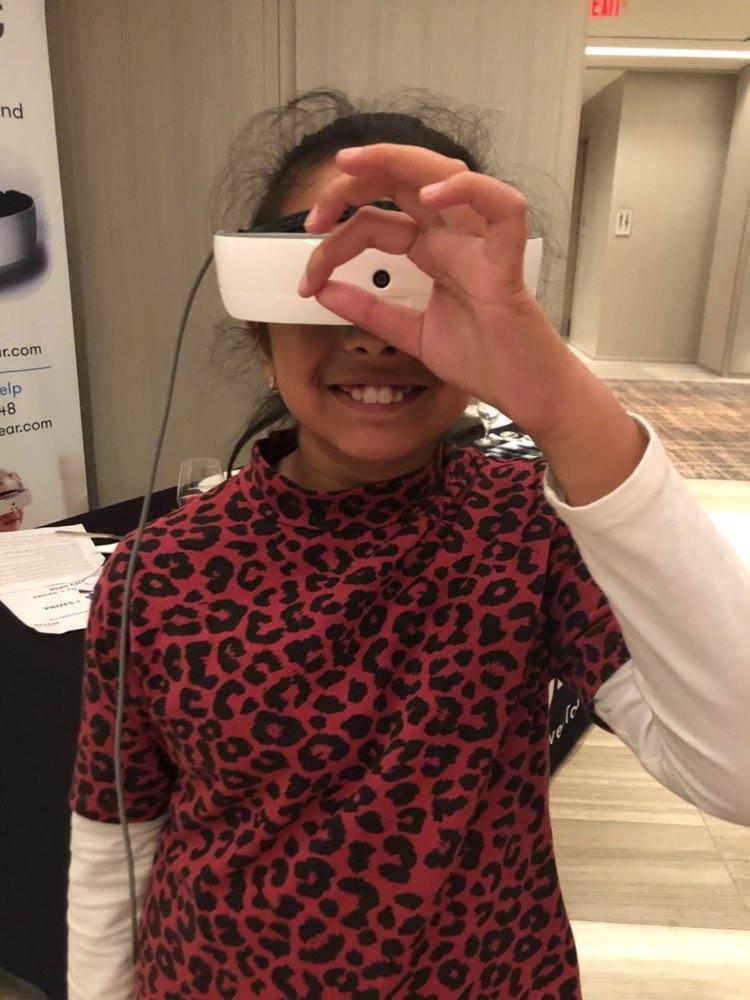 Zara's family initially discovered eSight through a family friend. She tried this high-tech low vision solution when she was just five years old, but between the older model and her smaller stature, it wasn't a perfect fit for her. With a little more maturity and growth, Zara tried eSight again when she turned eight. This time she was able to describe the changes she felt with and without the eSight on. This is when Zara and her family decided to test out the newer, sleeker version, eSight 3.
Once she put these glasses on, it was an instant success. To her parent's surprise, she was able to describe the pattern of the carpet on the floor of the restaurant they were eating at.
Testing Out eSight 4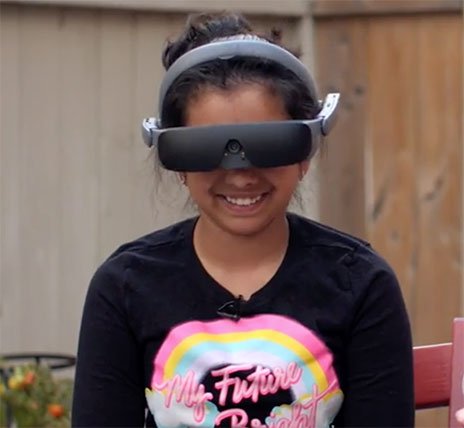 Now ten years old, Zara tried on eSight 4 for the first time this July 2020. In this special video, Zara and her father sit down to share with us how eSight 4 sets a new standard for low vision technology.
They described how Zara was able to walk by herself on their evening walk by herself – something she was not able to do without eSight.
I was scared of letting her go by herself, we would be holding her hand or she would be using her cane, but now with the eSight, she can be by herself and explore her surroundings. – Mohammed Gandhi, Zara's father
Zara showed off the touchpad on the eSight 4, and the different visual functionalities of the built-in controls. Now, she no longer needs a remote to be able to access the majority of the vision adjustments.
Zara uses her eSight to help her see the board in the classroom. Her father also explained that she can now record videos with the eSight and take pictures, to look back upon later. Plus, with the new app, he can see what Zara is seeing to help her troubleshoot any issues she might have.
Zara's Future Aspirations
As an already successful writer as the winner of the Braille Creative Writing Contest held by CNIB, Zara shared her goal of becoming a 'procuber' as she twists and turns her Rubik's cube.
The family also loves to play cricket. Now with the new comfortable and wireless design, they're excited to try eSight 4 to re-try the low impact sport.