Watch how eSight Helped Gary, a Macular Degeneration Patient, Regain his Confidence
---
Withdrawing From His Family after Vision Loss
Gary Foster lives with macular degeneration and has been an eSight wearer since 2015. When he lost his central vision, he found that he wasn't able to get instant feedback from people's facial expressions when having conversations with them, and he started to withdraw. He also lost his job working in Parks Canada as he could no longer drive. As a macular degeneration patient, Gary was told there was nothing they could do for his sight loss.
Gary's First Look at eSight, and the World
Fortunately, his family noticed the change in him and brought him to try eSight as one of many people in a long line wanting to look through the device. When it was Gary's turn, his wife asked him what he saw. He replied, "I see your face." Then, when looking around, he found that, "I can see everybody's face." His wife started to cry.
"It was my first look at eSight, and the world."

– Gary Foster, on trying eSight for the first time
Returning to his Favourite Hobbies
He is able to read his own mail and watch TV. He picked up reading again, which was one of his favourite hobbies that he gave up after his vision started deteriorating from his macular degeneration. He now works with his tools creating beautiful wooden pens and garden pieces.
Regaining his Independence with eSight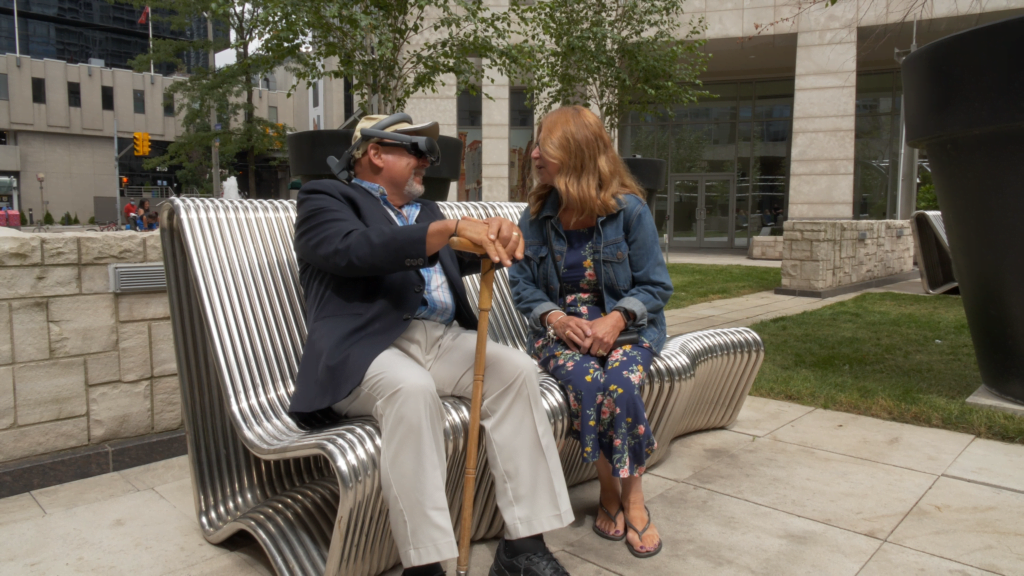 "eSight gave me my independence back, it gave me back what I took for granted," Gary smiled, with his wife beside him. She added, "eSight is fantastic. This is something that everybody needs to have that can't see. For us, it was life-changing, not just for him, for me as well."
Did you enjoy reading this eSight user success story? Read about how father and veteran Larry Kupner plans to use his eSight to spend time with his family.