eSight® Corporation was featured in an article "Q&A: What you need to know about assistive eye wear for blind, visually impaired patients" by Healio. Healio spoke with Aaron Tutwiler, the CEO of eSight® Corporation, to discuss the future of ocular assistive technology and what optometrists need to know about these devices.
Benefits of Using Electronic Glasses – Assistive Technology
Patients with visual impairments can benefit greatly from using electronic assistive eyewear. But what makes eSight® glasses special is that they were purposely designed specifically for those who are legally blind and visually impaired as a result of central vision loss.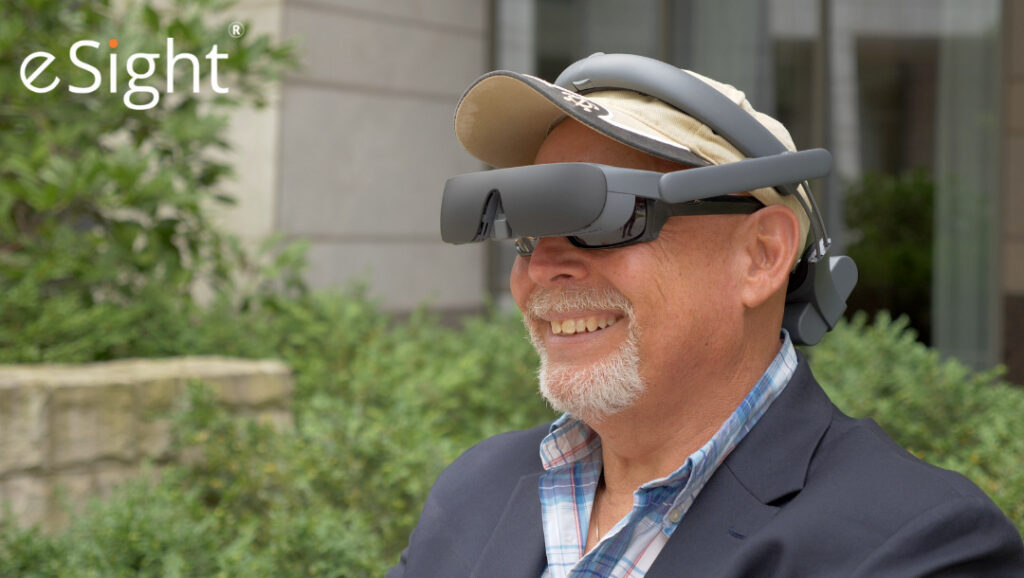 Vision professionals who are interested in integrating assistive technology and eyewear into their practice might begin by collaborating with organizations like eSight® Corporation and other suppliers of assistive technology to find out more about the potential fit for their patients.
Physical or geographical barriers no longer limit the availability of technology. Patients can easily utilize referral programs and new developments in telehealth to find the right fit.
eSight® Telehealth Program
Clinical professionals can refer patients to eSight® Telehealth services remotely to start the consultation process, allowing patients to test the device from the comfort of their own homes. By cutting down on travel time, virtual consultations can improve accessibility and efficiency while fostering a patient-centered experience from referral to use.
The coordination of an in-home evaluation and patient eligibility verification is done by remote professionals. An eSight® clinical consultant will instruct the patient on how to make the most of the device's features and functionality.
After several days of use, having had the opportunity to evaluate the device in the real world, patients can decide if the device is the appropriate fit for them. For referred patients, there is no obligation or charge for this service.
The Best Electronic Eyewear For Patients with Central Vision Loss – eSight 4™
Our eSight 4™ is one of the most advanced wearable devices for people with central vision loss. Many people who use eSight® devices acquire 20/20 vision, making it a superb assistive device that eye care providers can give to their low vision patients. 
Check out eSight 4™ to learn more about it.

If you or your loved one wants to try eSight® devices and go through the easy screening process, please use our Free Consultation to know if you're the right candidate for eSight® electronic devices.